It's Olivia de Havilland's birthday, she is one of the last surviving cast members of one of the most iconic movies. The Gone With the Wind actress turns 101 today. Havilland played Melanie Wilkes in the movie, alongside Vivien Leigh and Clark Gable.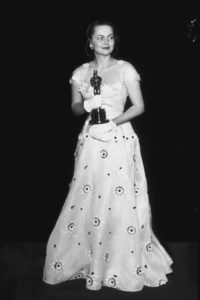 Gone With the Wind Actress Turns 101
Havilland has done more than just act in that iconic movie in her 100 years. She has earned two best actress Academy Awards for her work in To Each His Own (1946) and The Heiress (1949). 
She is also broke new ground in the acting community for winning a legal battle over Warner Brothers, forcing them to release her early from their seven-year contract. This allowed actors to pick the roles they want to play.
She was married twice, once to author Marcus Goodrich and then to journalist Pierre Galante (she divorced the latter in 1979). She had two children, though one passed in 1992 from Hodgkin's disease.
Read the whole article here.