There's been a lot of scary news surrounding Covid-19, and we all need a spot of positivity. Enter Dhruv Pai and Matt Casertano, 16 and 15 respectfully, who have created Teens Helping Seniors. A special delivery service for seniors during Covid-19.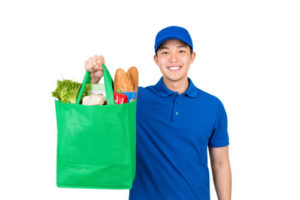 Teens Create Free Delivery Service for Seniors During Covid-19
What started in Maryland is rapidly growing across the country. Pai and Casertano have been using their time out of school to help others.
"We were both helping out our families, delivering groceries to our grandparents, and we thought 'what about the people who do not have family in the area?'"- Matt Casertano
The two teens designed a no-contact delivery service. Seniors email their grocery list and then are connected to a volunteer nearby. Each teen has proper sanitation equipment and wipes down all surfaces, following CDC guidelines.
The volunteer teen will then leave the groceries at the front door and pick up the cash or check to cover the cost of groceries. If cash or check doesn't work, payments can be made online through services like Venmo.
As an extra precaution, teens will call their customers to make sure they got everything they needed.
What started as the two teens, has now evolved to 65 volunteers and more joining each day.
Not only do these teens deliver groceries, but they are helping with loneliness too. Sometimes a five-minute conversation is all these seniors get during this tough time.
Teens in other states are starting their own programs with the guidance of Pai and Casertano.
Read more here.