After an 18 year long study, it's shown that women over 50 are forced to choose between careers and caregiving. The study was done by Sean Fahle of the State University in Buffalo and Kathleen McGarry of UCLA. It shows that women in their 50s and 60s are leaving their jobs to take care of aging family members.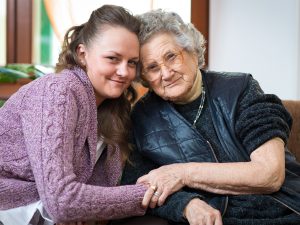 Women Over 50 are Forced to Choose Between Careers and Caregiving
The study also discovered that one-third of baby boomer women are devoting up to 30 hours a week to caregiving. That's on top of their jobs. This obviously causes a lot of stress finically, emotionally, mentally, and physically for the caregiver. Many feel that their career has taken a hit because businesses don't allow time off for helping parents. There is proof that they lose promotions and wages because of their caregiving.
The Fahle and McGarry study confirms some rather grim statistics from other sources about working women who are caregivers:
The average income lost by caregivers each year is a whopping 33 percent.
Caregivers pay for many caregiving expenses out of their own pockets, to the tune of $10,000 a year.
Overall, 11 percent of caregivers end up having to quit their job to care for someone at home around-the-clock.
If a woman does have to leave her job due to caregiving needs, the lost wages, pensions, and Social Security benefits over her lifetime total more than $300,000.
While some companies, like Nike, are offering paid sick family leave, we as a community have a long way to go because this isn't a fair choice to force on someone. If you or someone you know needs help caring for a loved one. Feel free to contact us for great in-home care. We know how hard you are working to make sure your aging loved ones have a good life, and we would love to help you!
Read the original article here.