About Seniors Helping Seniors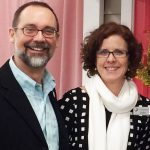 Seniors Helping Seniors of Seacoast and Southern New Hampshire is licensed directly with the State of New Hampshire Department of Health and Human Services and dedicated to serving the needs of our seniors each and every day.  We are also a Non-Profit, 501(c)(3).
It was personal experience with their own parents…
…that led Judy & Randy Loubier to start Seniors Helping Seniors in-home services, serving the Seacoast and Southern New Hampshire.
"My mother, who lives in Florida, underwent surgery to remove half of her right lung. Three weeks after her recovery she suffered a stroke," shared Judy. "I was on the airplane heading home from Florida praying, 'God, how am I going to care for my aging parents?' That is when I opened the airplane magazine and saw an advertisement for Seniors Helping Seniors services. It felt like my prayers had been answered in more ways than one."
"Between the four of our parents we have been through almost every major situation you can face when caring for a parent," said Randy. Caring for their parents long distance, setting up hospice, using assisted living, long-term care and getting parents home from the hospital countless times.   "All through those experiences," Judy added, "our chief desire was to support our parents in their independence and dignity and to optimize their quality of life."
Through it all, they experienced the full range of emotions from fear and guilt, to concern and joy, Judy added. "We were the adult child, the caregiver, the senior, the son or daughter and the decision-maker." These experiences resulted in a commitment to starting Seniors Helping Seniors of Seacoast and Southern New Hampshire.
"We truly believe that the best caregivers are those with a lifetime of their own tragedy, struggles and joys," said Randy. "The best person to care for a senior is a senior. When we share our vulnerabilities, our aches and pains, our disappointments in not being able to do the same things as when we were young, we need genuine empathy not just a sympathetic nod. Likewise when we share stories of our youth, former careers and grandchildren, we want to talk with someone who understands, because they, too, have their own lifetime of victories and defeats.  Having said that," he added, "we hire caregivers of all ages, because every client has unique needs."
"We chose to start Seniors Helping Seniors and 360 Nursing in-home care because of the emphasis on finding loving, caring, compassionate providers. Anything less is not what we want for our parents, and not what we want for ourselves," Judy said.
Click here to meet the team…