Having the car conversation with your senior is hard. It's an incredible loss of independence for them. There is no right or wrong way to have this conversation. But, the development of smart cars could keep seniors on the road longer and let you push the conversation further into the future.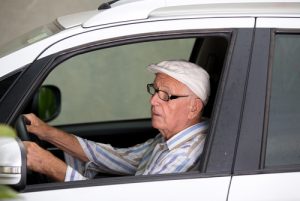 Can Smart Cars Keep Seniors on the Road Longer?
Since the Silver Tsunami is coming, a large group of drivers is going to struggle to stay on the road. The auto industry needs to prepare for these drivers. They can do this by creating features that can work with disabilities or limitations that come with getting older.
For example, someone with arthritis can be helped by power seats that can move to the steering wheel and far away enough to get in the car easily. Other features that can help are power windows and mirrors, a thicker steering wheel that's easier to grip, keyless entry, an automatic tailgate closer, and a push button to start and stop the engine.
Having a large display that's high contrast with letters and numbers help those that are visually impaired. An auto-dimming rearview mirror and glare-reducing side mirrors can enhance driver safety.
A backup camera is an equally wonderful and dangerous feature. It's great for those who can't turn their heads well or shorter people. The problem is when people depend on it too much. It can't cover blind spots, so people still need to look around.
AAA created a useful list of smart features that will be helpful for people with certain limitations.
Read more about smart cars here.