When you think of comedians, you probably imagine them on stage with a single spotlight on them. While you aren't wrong, there's a new picture of comedians coming to light—as a source of joy for those with dementia. People have started to hire comedians for loved ones with dementia to visit weekly.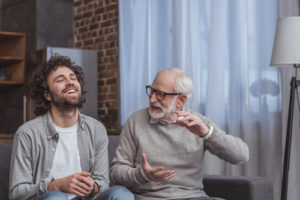 Hiring Comedians for Loved Ones with Dementia
It makes sense in a way. While dementia can take away brain functions involving memory and logic, it doesn't take away emotion. In fact, in some people, it enhances their range of emotion and sensitivity.
Dani Klein Modisett created Laughter on Call after seeing what a comedian did for her mother. Modisett moved her mother from Manhattan to Los Angeles when her mother developed dementia. Modisett did this so she could be close by.
The only problem was, her mother caved into herself and was no longer the person she used to be.
Enter the comedian. After one visit, her mother became more engaged, ate, and started laughing.
Laughter on Call pairs comedians with dementia and Alzheimer's patients. It also puts on laughter workshops and live comedy shows in communities.
Fees are between $25 and $50 for an hour-long visit.
While Laughter on Call is mostly in California, other states have been looking into it. Some comedians have clients in other states, and Modisett gets inquiries from all around the country.
It's not just the older adults who get benefits from these meetings. Many comedians say they've developed more empathy and feel fulfilled doing this.
Read more here.