It's no secret that Asia is leading the way when it comes to robotic caregiving. The latest news has to do with robotics helping Chinese seniors with rehab. Doing physical rehab is more engaging and enjoyable with the help of these robots.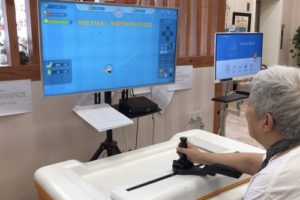 How Robotics Are Helping Chinese Seniors with Rehab
People over 60 in China have reached 250 million in 2018, out of a total population of around 1.4 billion. The country realized it needs to come up with alternative ways to treat their aging population because soon the senior community will be bigger than the country can handle.
So, scientists and tech companies are creating artificial intelligence applications to make things easier.
A woman named Wang Lingmei is using a training machine and playing a game at the same time. The device resembles an electronic piano with a TV attached to it. Wang, 84, is reaching to touch virtual fruits by moving a handle as part of her daily exercise. The exercise regiment is to help her recover mobility after fracturing her right arm and leg in a fall.
"The game is interesting and makes me feel happy. We have a therapist to monitor our condition while using it, so I am not afraid of this technology and machine."— Wang Lingmei
The Lujiazui Elderly Community Center, where Wang resides, uses the game/rehab machine and also uses smart mattresses. The mattresses have sensors to help monitor the health of patients, and the data can be shared with everyone who's allowed to see. GPS can even find residents if they wander off.
Before having the rehab machine, the center would hire a therapist to visit every day to help patients. The therapist would direct the patient's hand to an object and repeat the move with them hundreds of times. It took a lot of time and wasn't fun for the patient.
Now with the machine, while a therapist is still needed, the exercises are more engaging, and there is a sense of independence.
We'll be keeping an eye on the robotic caregiving field.
Read more here.