It's no secret that New Hampshire is considered a gray state, meaning that there is a large aging population. A new database has been created to give stats on aging in New Hampshire. The Tufts Health Plan Foundation funds it.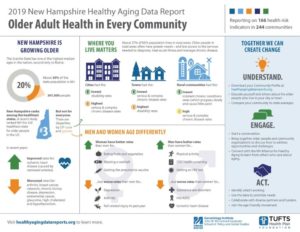 New Database Gives Stats on Aging in New Hampshire
The database has 244 Community Profiles, one for every city and town in NH. Each profile has 166 indicators of health and state averages.
People can look up stats on Alzheimer's, different heart conditions, and how many people have more than one chronic illness. People can look at access to care and the cost of living too.
Having access to this database means that anyone from senior communities to the average person can access this information to help them know what's best for their aging relatives. It may even point them in a direction when deciding what the next move should be, maybe moving to a new town is best for them. It's also an excellent tool for creating policies to help our aging communities in those specific areas of need.
There are significant differences in health by zip code, gender, and type of town a person lives in.
The database is made of around 40,000 pieces of data. The top three sources include the Centers for Medicare and Medicaid Services, the Federal Census Bureau, and the FBI.