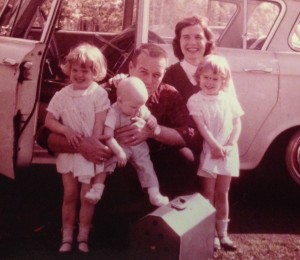 We grew up fortunate enough to have a place to go in the summer, a somewhat remote cabin on a lake in Maine. Land purchased in 1940, by a grandfather I never met. The camp was built in 1960 by my father and his brothers. Without a road to the house, the materials were brought across the ice in the winter, and over the water in the summer. In fact, I have a vague recollection of a picture with large horses pulling a sled of wood across the ice. Am I imagining this? I will have to dig through the old albums and see.
There are so many memories of summers in Maine, and they begin in White Plains, New York, where my youngest sister, Kathy, would squeeze in with the cat carrier and luggage in the "way back" of our Ford Country Squire. There was always a brief discussion between Cindy, Nancy and myself on seating arrangements, but generally Nancy and I had "called" the windows first, so Cindy would take "the hump" seat in the middle. Seat belts were not a requirement, so a fair amount of movement occurred during the long and tiresome drive north.
The 364 miles through Connecticut, Massachusetts and New Hampshire felt endless, but I know now, in my 50s, that it was longer for my mom and dad. The drop in temperature as we stretched our legs at a rest stop in Maine was a welcome change. It meant we were closer to the camp. The air was different there. In my mind, there was always a breeze that did not exist in White Plains. We would reach for sweaters and dance a little, as kids will do when excited, a kind of one, two, step hop, hop.
Once we arrived in Belgrade Lakes our house was only accessible by boat. If our trip had gone according to plan, we would arrive and park behind the country store just before dusk. We took extra care to keep our voices low. The store keepers lived above the store in those days, and we wouldn't want to wake their children. My mother would corral us down by the water, as my father unlocked and removed the chain from our Aluma-Craft fishing boat, dragging it to the water. Once the motor was secured, we were given our life vests, big orange life preservers that felt designed to choke you to death. The sun would have set by this time, and one of us would sit quietly in the front, holding a flashlight, so we could find our way to our cabin across the lake. The night was cold, quiet and still.
Our camp was tucked in the woods surrounding the lake, without another home in sight. We had a wood burning stove in the living room, and would often help my father fill the wood box. The camp is largely the same as it was back then. We still have the wood box; still light the wood stove on cold mornings. There is no electricity, even today, and no ceiling, just open rafters that hold giant lobster pots and a child's crib. Our stove and refrigerator are powered by propane. Kerosene lamps adorn tables, and propane lights help to warm the rooms. 
The lamps are seldom used today, but when I was young there'd be one on each dresser, and often one placed in a pot as a nightlight in the center of the kitchen table, so we could find our way to the outhouse. The pot was to prevent the cat from burning the place down while we slept. The nightlight was not necessary for my sisters and I however, the last place we were going in the pitch dark was the outhouse. Morning would come soon enough.
Long Pond is the lake where we learned to swim and to water ski, to understand the call of the loons and to identify their eggs. We fished with our dad. He would take us to the spring for a drink of ice cold water, to give our mother a few minutes reprieve. He would pull the water out of the spring with a small, dented pot and use a funnel to pour it into a jug, but if we were good, we got a drink right from that pot. As we grew older, we would take the walk on our own, when getting the water became a part of our daily chores .
We played in the woods; we played at the edge of the water on the rocks. We took boat rides to find wild moose, and to see the fireworks on July 4th. We sat by the fire pit outside, to watch my father make pancakes on the cast iron griddle in the morning, and to roast marshmallows in the evening.
There are memories of a first kiss; a first love from next door; my parents, anxious about our young hearts and revealing bikinis.
I have so many memories of time spent in Maine, and they seem to revolve around us as kids. My sisters, cousins, and friends; the crazy games we would play; the shows we'd put on.
There were years in between then and now, when my sisters and I brought our children, and they were the ones learning to swim, and waterski, and drive the boats. They'd put on shows with singing and dancing, make huts in the woods and cook marshmallows for s'mores. This is a kids place.
But I can search my memory and see my mom and dad there. I can hear the chain saw and smell the wood being cut. I can see my dad waterskiing once a year, even placing the handle between his knees and skiing with no hands to impress us kids. I can see us on Blueberry Island, picking blueberries with my mom. I can hear her giving us the credit for blueberry pancakes, though she'd done all of the picking while we were off exploring. And I can see my mom on the raft with my aunts, laughing, and lifting the anchor and floating down the lake. Her smile was big and her eyes were dancing.
My parents returned for two summers after my mother's stroke. The first year she walked slowly, with a walker and two of us helping, side by side. But she stepped on to the pontoon boat and took a ride with us in the evening. Sometimes asking "whose lake is this?"
Ten months later, when we had opened the camp for another season, my mom was carried down to the lake in her wheelchair and rode just behind the captain's seat and my father's left shoulder. Most of that summer she would remain in the house, sitting in her wicker chair, facing a picture window that looks down to the lake; a far-away look in her eyes. I'd find myself wondering, does she still hear the laughter of her four young girls? Of her grandchildren over the years? Does she see us playing in the woods or jumping off of the raft? Is she cheering us on as we waterski? Is she considering floating away on the raft again, her own laughter filling the crisp Maine air?
My mother has dementia now, and my father has congestive heart failure. He can't tinker outside anymore. His full time use of oxygen means he can't be near the propane lights that are used in every room. This will be the first year that he won't go to Maine since 1956. This is his choice. I think he feels too helpless. He has always been fiercely independent and nowhere more than at the camp is he aware of his newfound reliance on others.
But my dad wants us to take mom for one more trip to the camp. Maybe he sees that beauty in her bathingsuit, laughing on the raft. Maybe he knows she is more at home there than anywhere. Maybe he just loves her so much he wants her to hear the call of the loons, and the kids and grandkids laughing together. I think he knows when she sits in her window it all comes back and it is good. One more trip. We'll take it.