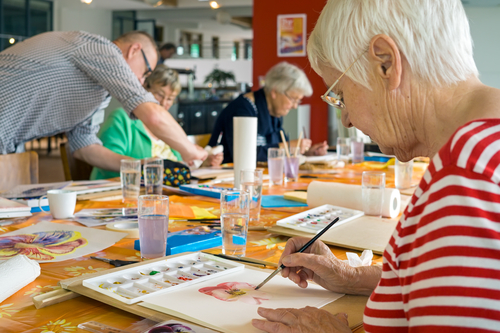 As discussed many times before, having a loved one with Alzheimer's is hard. What makes it harder, is the difficulty that comes with communicating. This was the struggle that Berna Huebner had her mother Hilda Gorenstein. Gorenstein was a former painter so Huebner asked if she wanted to paint. Little did Huebner know that she would discover that art helps with Alzheimer's in more ways than we can imagine.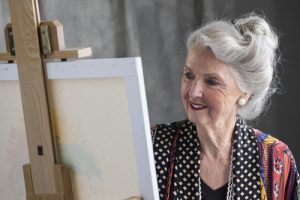 Art Helps Alzheimer's
Gorenstein when asked if she wanted to paint said, "Yes, I remember better when I paint." She had painted at the Chicago World Fair in 1933 and 1934. Even though she wanted to paint, she wasn't able to focus.
Her doctor suggested that Huebner contact her alma mater, School of the Art Institute of Chicago. Check if there were students who could paint with her. A few students came and within weeks Gorenstein was painting again.
Fast forward to 1999 Huebner founded Hilgos Foundation to provide grants for art students to work with Alzheimer's patients. Ten years later, she co-directed a documentary, I Remember Better When I Paint. It shows the positive effects of art and other creative therapies on Alzheimer's patients. It has been shown internationally and been broadcast on public television.
In 2016 a Swedish study, showed that people with Alzheimer's have a preserved ability to paint. Also that painting can be extremely beneficial. A different study around the same time found that painting can help with cognitive ability and help with the more emotional aspects of having dementia. Now there are art therapy workshops popping up all over the country and the world, allowing dementia suffers to speak without using words.
Read the whole article here.