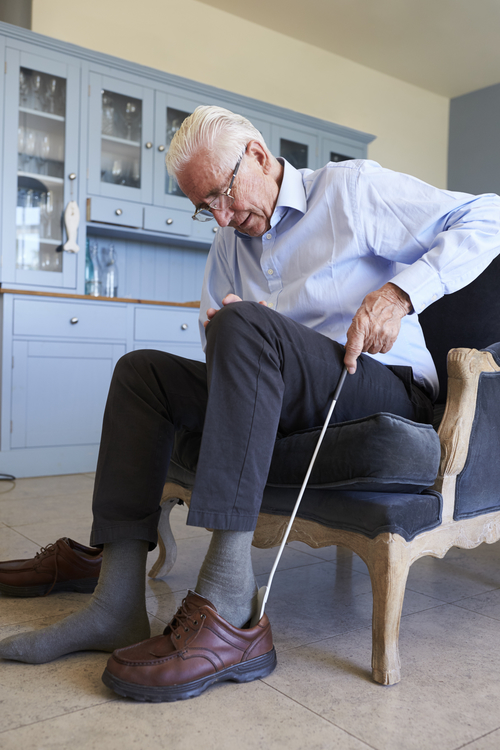 Seniors with limited mobility can struggle with everyday tasks like dressing. It can be an incredible loss of independence. Luckily, this article talks about some of the best dressing aids for seniors.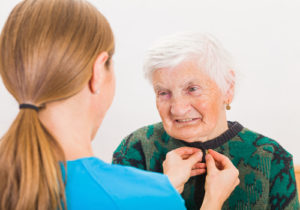 7 of the Best Dressing Aids for Seniors
All these tools help with dressing tasks that you may not realize are difficult.
1. Button Hook
One of the hardest things to do while getting dressed is doing buttons. A button hook like Good Grips hook can save you time and frustration.
The hook features an easy to hold handle, and the wire loop will go into and pull through the buttonholes. It can also unbutton shirts as well.
It has a 4.6-star rating on Amazon.
2. Zipper Puller
Another hard part of getting dressed is dealing with zippers. Like buttons, they are small and hard to grab. Zipuller helps you zip any piece of clothing with ease. It grabs the zipper and has a long ribbon for you to pull the zipper up.
It has a 4.2-star rating on Amazon.
3. Carex Sock Aid
The ability to bend may lessen as you get older making putting on socks painful. Using a Carex Sock Aid will help ease the pain of bending over to put on your socks.
It has a flexible, terry cloth grip that won't ruin the fabric of your socks. The handle features large loops for easy pulling. It will work with all kinds of socks.
It has a 4.1-star rating on Amazon.
4. No Tie Shoelaces
That's right, shoelaces that you don't need to tie. If your finger flexibility isn't what it used to, don't worry. Xpand Shoelaces are easy to set up and make any type of shoes easy to put on and safe to wear around. Plus, there are 44 color options.
It has a 4.6-star rating on Amazon.
5. FootFunnel Shoe Assist
Like socks, shoes can be hard to put on too. That's why FootFunnel Shoe Assist was created. It spreads the back of your shoe, letting your foot go in smoothly. You can use it sitting or standing.
It has a 3.6-star rating on Amazon.
6. Long Handled Shoe Horn
This is another version of a shoe tool that will help you slip in your shoes. Shoe Horn Pro is an excellent option if your limited mobility makes putting on shoes hard.
You can adjust the handle to whatever length feels right for you. It's made of durable stainless steel which means it will last you a while. You can use it standing up or sitting down.
It has a 4.3-star rating on Amazon.
7. Dressing Stick
A dressing stick will help with overall dressing. If you find pushing your shoulder backward painful, or can't bend to pull your pants up, this will help you.
The RMS Long Dressing Stick is an excellent version of this. It's the most recommended by health professionals. It has a push-and-pull hook on one end, and a vinyl C shaped cup hook on the other end. One is for clothes, and the other is for zippers and shoelaces.
It has a 4.3-star rating on Amazon.
Read more here.