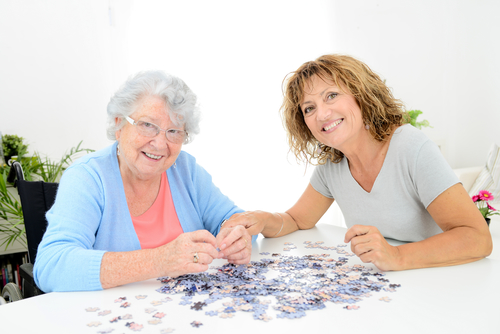 Seniors who find it hard to move may not feel like they can have fun anymore. Some of the activities they used to do may be too hard now. Luckily, there are plenty of activities seniors with limited mobility can do.
9 Activities Seniors with Limited Mobility Can Do
These activities can be done on their own or with a group.
1. Reading
Reading can be fun and relaxing. It takes a senior out of their reality and into a new one. It keeps their brain active, improves their memory, gets rid of stress, helps with sleep, and delays cognitive decline.
The options are physical books, magazines, an e-reader, or listening to audiobooks.
If your senior wants to engage with other people, create a book club.
2. Hobbies
Hobbies are a great way for seniors' to spend their time. Look for activities that don't need a lot of moving like cooking, baking, knitting, birdwatching, or learning a new language. Learning something new will keep boredom away.
3. Exercise
Even seniors with limited mobility can do exercises. They can do sitting or standing exercises and get all the health benefits. Chair yoga is an especially good form of exercising.
4. Being Creative
Seniors can get in touch with their creative side through drawing, coloring, painting, or sculpture. Being creative has health benefits too. Creative activities can help people with chronic illness decrease negative emotions, reduce stress and anxiety, and improve medical outcomes.
5. Go Outside
The outdoors are a great way to relax and boost your mood. You can sit out on the porch or in a chair near a window and get some fresh air. Watch nature grow, birds go by, and the general scenery.
6. Being Around Happy People
Ask friends or family with babies or pets to come for a visit. Pets and kids will make anyone perk up and they will bring fun energy with them.
7. Games
Games and puzzles are perfect for those with limited mobility. There are so many to choose from and new ones out every day. They can be done on their own or with a group.
8. Movies, TV Shows, or Music
While seniors shouldn't sit around all day and watch TV, the occasional movie or show can be the best part of their week. They can learn something new by watching a documentary or a cooking show.
Listening to music can help reduce stress, anxiety, and pain. It can also bring back fond memories depending on the music they listen to.
9. Charity Work
Not all charitable work needs a lot of mobility. For example, knitting or crocheting blankets or hats for hospitals, local charities, or religious organizations.
Read more here.