It's easy for seniors not to get enough nutrition. Grocery shopping or cooking can be too hard to do. They may be sick of eating alone or meals don't taste the same. Luckily, there are 18 quick and healthy meals for seniors that are easy to make.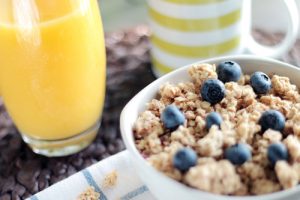 18 Quick and Healthy Meals for Seniors
Make sure to keep in mind their food restrictions and recommendations before making meals.
1. Warm Oatmeal and Berries
You can use either frozen or fresh berries in a crockpot at low heat. A small amount of butter, a small serving of oats and water should be added.
Cover the crockpot and leave it on for a few hours or overnight.
2. A Hard Boiled Egg
This, along with fresh fruit or whole wheat toast, will make a healthy meal.
3. Whole Grain Pancakes or Waffles
If you can, find a brand of pancakes or waffles that has chia seeds because they contain essential fatty acids and proteins. For protein, you can have some walnuts or almonds.
4. Yogurt Parfait
Mix yogurt, nuts, and fruit together. It's a great combo of healthy fat, Vitamin C, and carbohydrates.
5. Power Toast
This is whole wheat toast with peanut butter or almond butter on it.
6. Poached Egg
Have an egg on top of whole wheat toast and steamed asparagus. For flavor, use a little bit of butter on the top.
7. Quinoa Salad
Saute pre-chopped stir-fry vegetables like onions, red peppers, or mushrooms in olive oil. Mix pine nuts or pecans and cooked quinoa in too and use Italian dressing for flavor.
You can eat this warm or cold. Just make sure to refrigerate.
8. Eggs and Red Potatoes
With some butter in a skillet simmering, add chopped up potatoes and have it cook over medium heat for two minutes. After that, pour scrambled eggs over the potatoes and add peppers. Toss it around until the eggs are hot.
9. Cottage Fries
Cut up parboiled red potatoes and put them in a skillet with extra olive oil. Add vegetables and grated sharp cheddar cheese. Cover the food, let it steam over medium heat until done.
10. Southwest Omelet
Put a tablespoon of olive oil in a skillet and beat two eggs. Put in the eggs, pepper jack cheese, and natural salsa or chili sauce. When it's firm, fold the eggs over and serve with sliced avocado.
11. Salmon Wrap
Use canned Alaskan boneless salmon on a whole grain wrap. You can add chopped avocado, tomatoes, greens, and plain yogurt. Wrap it tightly and cut in half.
12. Baked or Grilled Alaskan Salmon
Top the salmon with tomatoes, sweet onions, dried or fresh basil, chopped garlic, and a tablespoon of extra virgin olive oil. Wrap the fish in aluminum foil and put it in the oven at around three hundred degrees.
13. Lamb and Potatoes
Make the ground lamb into meatballs. Cut red potatoes into small pieces and cut some garlic too. Put everything in a skillet over medium heat.
14. Shrimp and Pasta
Start with putting a bit of butter and a tablespoon of olive oil in a pan. Add cut fresh herbs, garlic, and some shrimp. Once done put it on top of pasta with some chopped fresh tomatoes.
15. Liver and Fennel
Put liver slices in a skillet with extra virgin olive oil. Add fennel, onions, and cabbage. Cover until the liver is tender.
16. Beans and Rice
Cook a can of black, pinto, or white beans. You can serve with brown rice, oats, or barley.
17. Shrimp and Fresh Greens
Saute fresh vegetables in a pan with olive oil. Add cocktail shrimp and serve with a berry vinaigrette salad dressing.
18. Southwest Chicken Salad
Cook boneless, skinless, chicken breast on medium heat in a skillet with extra virgin olive oil. You can add salsa if you want. You can use it for wraps, salad, or soup.
Read more here.