There are everyday tasks that can grow difficult for seniors. Most of the time, it's tasks that younger adults don't think twice about performing. It can be frustrating and even depressing for seniors when they can't do stuff that they could before with ease. Thankfully, people are smart and have come up with products that can make a senior's day easier.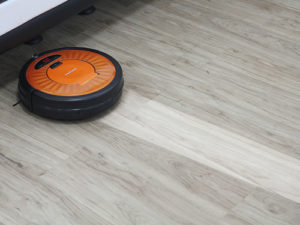 8 Products that Make a Senior's Day Easier
These objects range from products for the kitchen to products for entertainment, but all of them will make a senior's day easier.
Opening cans can get harder as people get older. Between pain from arthritis and loss of mobility control, opening a simple can becomes a huge time sucker. This electric can opener can be the solution to all that.
You press a button, and it will go around the can, and then it's done. The blades cut into the side of the can so it doesn't touch your food and doesn't leave sharp edges.
It has a 4.2-star rating on Amazon.
Like cans, jars can be difficult to open too. An automatic jar opener will make a senior's life so much easier. All they would have to do is push a button, and this product will open the jar for them. It can open a variety of different sizes and styles of jars.
It has a 3.7-star rating.
Is a senior in your life having a hard time hearing the TV? Headphones like these could be the solution. They are wireless headphones that will clarify voices and cancel outside noises, so it's easier to hear. It uses rechargeable batteries.
The automatic signal control technology changes the volume as needed to prevent any hearing damage. Their effective distance is up to a hundred feet. You can even customize how the sounds come out thanks to different balance controls.
It has a 4.2-star rating on Amazon.
A big problem seniors have with technology is how small the buttons can be. It can be hard to read which button is the right one to push. This remote can control your TV and cable box. It features only the essential buttons needed to watch TV.
It has six buttons that are bright and backlit. The buttons are an on/off button, mute, and volume and channel controls. It also comes with a wrist strap in case a senior has butterfingers.
It has a 4.2-star rating.
Sometimes reading can be hard if you don't have enough light and can't see the text. A magnifying floor lamp will fix all that. This lamp will magnify any object up to 6 times your normal eyesight. This will make reading, sewing, and crafting so much easier.
It uses LED to make the lamp as bright as possible and can last 100,000 hours. The neck of the lamp is flexible so that it can be put in any position.
It has a 3.9-star rating.
Who likes to vacuum? Not many people. Using a robotic vacuum cleaner will make anyone's life more comfortable, especially seniors. It works quietly yet has a powerful suction. It can go around the house for a hundred minutes. It even knows when it needs more power and will use an even stronger suction.
It has an anti-scratch glass top and infrared sensor to see where objects are. It can even sense edges so it won't fall down the stairs. It has a charging base, AC power adapter, cleaning tool, extra filters, side brushes, and instructions.
It has a 4-star rating.
This clock reminds seniors when it's time to take their medications up to four times a day. It will also let seniors know what the time and date are. It's designed to be easy to see, set up, and loud in case there is anyone with hearing impairments.
It has a 4.1-star rating.
Sometimes pills are just too hard to swallow, and this product can help make it easier to take medication. The design is meant to be easy to hold and use. Not a lot of strength is needed. It will turn pills into a powder so medication can be mixed in with food.
It has a 4.1-star rating.