The bathroom can be one of the most dangerous rooms in a house for seniors. Slippery floors, getting in and out of showers, and getting on and off the toilet can be opportunities for injuries. Some products can help make your bathroom safer.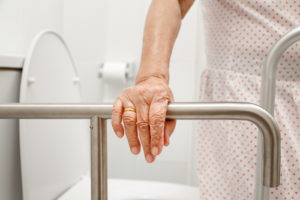 9 Products to Make Your Bathroom Safer
These products range from products for your shower to your toilet to your bathroom floor.
1. Toilet Night Light
It may seem silly, but this could prevent trips during the night. Having a light inside your toilet can keep you from tripping without having to shock yourself awake with bright lights. It has a built-in motion sensor that detects body heat and will light up the room.
There is a bit of fun with this product because it comes in 16 different colors. It also has five different brightness levels.
It has a 4.2-star rating on Amazon.
2. Elevated Toilet Seat with Arms
This seat will help make getting up and down easier due to not only being higher but coming with arms as well. It's easy to clean and put together. If the arms aren't needed, they are removable. It has a weight limit of 300 pounds.
It has a 3.9-star rating on Amazon.
3. Toilet Rail Grab Bar Safety Frame
Here is another way to make getting up and down easier. This product is different because it's more than just arms. It's an entire frame that surrounds the toilet, similar in style to a walker. It even has a basket for magazines or books on the side.
It's made of steel to make it sturdy and durable, and it has slip resistant pads so that it doesn't move when someone uses it. It has comfortable grips for users.
It has a 4.7-star rating on Amazon.
4. Bath Step with Handle
Getting in and out of the tub/shower can be a potential hazard. This step makes it a little easier. By raising the body, it makes the step to get over a tub smaller and gives you more control. It has a non-slip grip platform floor and a locked in safety handrail for added support and balance.
It has a 4.2-star rating on Amazon.
5. Non-Slip Bath Mat
Getting out of the shower can be just as dangerous as getting in. Getting a non-slip bath mat is a way to stay safe. This mat, in particular, features memory foam for extra comfort. It's machine washable which makes it easy upkeep. It comes with eight different color options. The bottom of the mat is lined with long-lasting PVC dots to stop it from moving.
It has a 4.5-star rating on Amazon.
6. Grab Bars
Grab bars will be your best friend and don't need much of an explanation. You can put them on any wall, and it will be support for balance. This particular grab bar can handle up to 500 pounds once secured.
This bar has a 4.8-star rating on Amazon.
7. Bath Seat
Some people may not be able to stand long enough to take a shower due to balance issues or muscle weakness. Using a shower seat will help prevent slips.
This seat is lightweight but durable. It has a padded seat, and the back is detachable for easy cleaning. The chair has non-slip material for safety as do the legs for extra security. It also has drainage holes for water to escape. It has handles for helping people get up and down.
It has a 4.4-star rating on Amazon.
8. Shower Bench
Have everything you need right at your fingertips with a shower bench. Have your washcloth, soap, and any other essential needs all in one spot.
This bench weighs less than 5 pounds and can hold up to 300 pounds. It has rubber stops to keep it from moving or scratching your tub. It's easy to attach to your tub. Relax and have everything you need while you shower.
It has a 3.9-star rating on Amazon.
9. Anti-Slip Mat
This is essential to make your bathroom safer. Having a mat to cover your floor will keep you from falling because the tub floor is slippery.
This mat, in particular, comes in 16 different colors. It has suction cups to keep it stuck to the tub floor. It's antibacterial, mildew resistant, BPA free, non-toxic, phthalate free, latex free and has no smell. It's even machine washable.
It has a 4.3-star rating on Amazon.