Two visitors dressed in costumes visit dementia patients hoping to make them smile. Their names are Dapper Dan and Beatrice, stage names of Dikki Ellis and Ilene Weiss. They work for Vaudeville Visits, a program at Saint Barnabas Medical Center in Livingston, N.J., which is run by Healthy Humor.  They hope clowning around for dementia patients will make them feel better.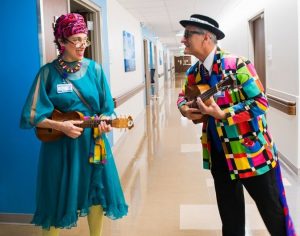 Clowning Around for Dementia Patients
Though this duo are not your average clowns, they focus more on Vaudeville style of entertainment. They dress in a variety of costumes from a cow girl, to a used-car salesman, to "Melvis," supposedly Elvis Presley's brother. At one point Beatrice dressed as a bride and encourage eligible bachelors to "marry her" and for women to be her bridesmaids.
Beatrice says that they recognize the image of bride and that feeling  of joy that comes with weddings. It might also bring memories of their own wedding. They sing songs and will take requests. They try to trigger memories from the patients and try to get them to interact with them. It seems to be working because Dapper Dan and Beatrice leave patients feeling good and laughing.
A recent study in  Journal of the American Geriatrics Society  showed that clowning helped with behavioral problems with dementia patients.
"We found that after the residents interacted with the clowns for 12 weeks, there was a significant reduction in their neuropsychiatric symptoms," said Pia Kontos, a scientist at Toronto Rehabilitation Institute and the lead author of the study. "Our study found elder clowns were just as effective as medication in bringing down aggression levels in seniors with dementia."
Read the whole article here.