As a wise woman named Ada Keating, says, "You never stop being a mum." This is spectacularly true for Ada, who has an 80-year-old son named Tom. Tom is in an assisted living community, and Keating decided she was going with him. The 98-year-old mother moved into the same community as her son.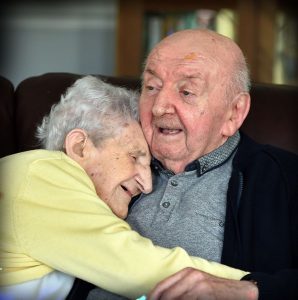 98 Year Old Mother Moved into the Same Community as Her Son
Tom moved into Moss View because he needed more support. This can be a hard decision for some people. If you are having trouble bringing it up to your loved one, check out 7 Ways to Start the Senior Living Talk.
Ada, a widow, and mother of three other kids followed him. They enjoy playing games together and watching TV. Ada wishes Tom a good morning and good night every day.
Tom is happy to be able to spend more time with his mom and loves to give her big hugs. Age does not stop Ada from occasionally scolding Tom and telling him to behave himself.
The duo is popular on the internet as their sweet story spreads. This duo goes to prove that a mother's love is never-ending.
Read the whole article here.