We've talked a lot about senior communities and even special ones that cater to those with dementia. Now, there is Hogeweyk, a neighborhood in Amsterdam that's actually a senior community designed for those with dementia. This model of care could change everything when it comes to senior care.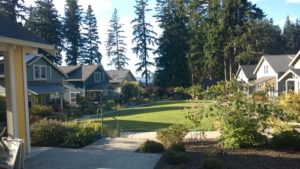 Could One Senior Community Change Senior Care?
How can Hogeweyk be a neighborhood and a senior community at the same time? Well, there are 27 houses that can hold 6 to 7 people comfortably. There's a mall, restaurant, bar, supermarket, and a club room. It has streets and alleys and even a theater.
The inspiration for this neighborhood senior community was wanting to improve the traditional nursing community environment. Yvonne van Amerongen noticed that people with dementia were confused about going from their homes to a hospital setting which added to the confusion from dementia.
They wanted to go home and live in a home, not in a ward.
Amerongen and her coworkers felt that they should organize living arrangements to be more family like., to have 6 or 7 people together instead of 20 to 30.
They group people together based on their ideas about life to make things smoother for the seniors and even have them be friends. They interviewed families to get to know these seniors as people for proper placement.
Not only did this help with creating a warmer environment, but it also battled loneliness. These groupings created social circles and social life for these seniors. They could talk to each other and understand each other. Meanwhile, people without dementia would struggle to make conversation with them.
But how does Amerongen keep seniors safe? They have professional and volunteers in the neighborhood that know how to do work with people with dementia.
Management works within the neighborhood that way they can keep an eye on the residents.
By thinking differently, Amerongen and her coworkers were able to create a more comfortable environment for seniors with dementia. Hopefully, America will follow suit and build these dementia villages too.
Learn all about Hogeweyk by listening to Amerongen's Ted Talk.