Chores can be kind of a drag, but they can help keep you sharp. We mentioned briefly about how household chores can keep you healthy in our article about different ways to stay healthy as you age. In this article, we are going to dive deep into a new scientific study that says daily movement keeps your brain healthy.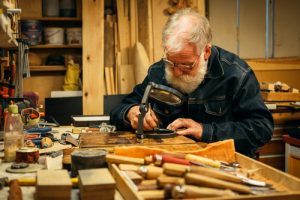 Daily Movement Keeps Your Brain Healthy
You know that it's good to keep exercising as you age. But exercising can seem too daunting if your body isn't working as well as it used to. That's why this study is such a big deal. It's saying that you don't have exercise a lot to stay healthy, you can just move around your house.
Plus, the study proves that simply moving around will keep you sharp even during your 70s and 80s.
The Study
454 adults age 70 or older were part of the study. 191 of them had behavioral signs of dementia, while 263 didn't. They were given thinking and memory tests every year for 20 years.
This study is particularly interesting because Dr. Aron S. Buchman, who led the study, was able to look at the brains of participants. This is because the participants agreed to donate their brains for research after their death.
In the last few years of research and before their death, people in the study wore an activity monitor called an accelerometer. It's like a Fitbit. It measured physical activity all the time, the smallest movements were recorded.
Every 10 days researchers created an average daily activity score.
The Results
It's been shown that higher levels of daily movement are linked to better thinking and memory skills. This was concluded by the yearly tests the participants took.
When Buchman looked at the brain tissue, he found that even brains with 3 signs of Alzheimer's disease or more had positive results. Even though they had been diagnosed with Alzheimer's, 30% of them had "normal" cognition at death.
Buchman believes that physical activity, no matter how small, can be protective even if you develop Alzheimer's. It can mask the symptoms and allow some control over your brain health even when you don't have control of Alzheimer's.
"As long as you have some activity and you're moving, whether you're chopping onions, typing, sweeping the floor or even running, you can reduce your risk of cognitive decline."—Dr. Buchman
There's More to Come
While this study is a great start, researchers would like to learn more. This study didn't show a clear cause and effect of how everything worked. The study also didn't have info on how active participants were before they became part of the study.
But this study proves there is hope.
Read more here.