Affordable and safe housing has been a long-running problem for seniors all over the world. In Sweden, IKEA and the Queen of Sweden are working together to build affordable elderly homes. The houses will also be adapted for the needs of those for dementia.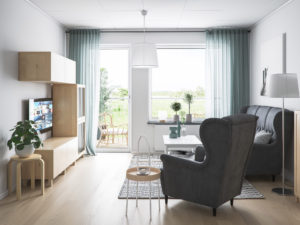 Ikea and the Queen of Sweden Team Up to Build Affordable Elderly Homes
The project is named SilviaBo and IKEA, Skanska, and Silviahemmet are working together. Silviahemmet is a dementia care foundation created by Queen of Sweden, Silvia.
They are using the modular BoKlok housing as a base. They will add shared social facilities and changed interiors with a more "dementia-friendly layouts," allowing seniors to live independently longer.
Similar to BoKlok, SilviaBo apartments will be made from wooden components that are premade and put together on site. The apartments will range from two to four floors with a mix of one and two-person bedrooms. It will feature wide entrances, and flat walkways perfect for wheelchairs. There will also be low thresholds for elevators and stairs, along with automatic door openers and extra lighting.
For those with dementia, there will be clear and enlarged signs that will direct them where to go. There will also be low shower-walls for assisted bathing, heat sensors for stoves, and calming interior finishes for all rooms.
Not only will their living spaces be made safe, but seniors will get the social interaction that they need. The apartments will have gardens with flowers and vegetables and even a clubhouse to spend time in.
The idea is that not only will seniors be able to live independently longer, but it will also save the Swedish government money that would have been spent on eldercare.
The first six SilviaBo apartments are being finished outside of Stockholm. IKEA is working on getting more land to build future projects.
Read more here.