There are more older adults playing video games than ever. The rise of the "Gray Gamers," as they're known, are making video games part of their daily routine. What started out as a way to bond with grandchildren has opened up a whole new world for older adults. Video games can even improve the brain and make reaction speeds faster.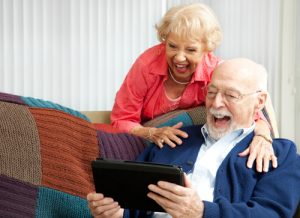 Rise of the "Gray Gamers"
Forty-four percent of adults fifty and older play video games at least once a month, and that number is growing. In 2016, there was only 38 percent. That means that the Gray Gamer population has grown from 40.2 million people to 50.6 million.
People between 50 and 59 are the biggest population of older gamers at 49 percent. It then slowly tapers downward from 60 and older.
Online gaming seems more popular than the traditional console gaming because most older gamers use their smartphones or other mobile devices.
Though there are many older gamers that buy games or accessories, overall spending on gaming has increased since 2016.
Gaming Improving the Brain
Playing video games improves older adults' brains in a variety of ways. More than half of gamers say that playing video games relieves stress and anxiety. It's a great way for those who can't go out or struggle to move to have enjoyment every day.
Games also keep their minds engaged and sharp through different types of missions and reactions. A favorite genre of games for those fifty or older are puzzle/ logic and card/tile games. The least popular is education and sport-oriented games.
There are many types of games that promote physical and mental health as well.
Playing games online keeps seniors more social. Many online systems allow for chatting so that people can connect to friends all over the world.
Read more here