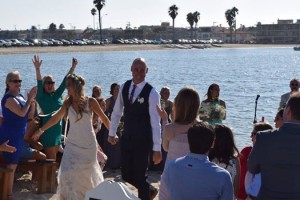 On Labor Day my step –daughter married the man of her dreams and I have never seen her so happy. She was a vision in a beaded dress with a plunging back and a crown of white roses and eucalyptus on her head. We were blessed to be part of this event and to share it with so many family members and friends. But San Diego is a long way from home for us New Englanders.
As small as this world we live in is, it can feel immense when someone you love has a special event far away.
Boston to San Diego is a mere 2584 miles by airplane and 2999.61 by car if taking a route through New York and Ohio. Of course if you are going to drive there are many great things to see on the way and you can choose a southern route and see White Sands National Park in New Mexico and the Grand Canyon in Arizona, or a northern route and stop in at Mount Rushmore and Yellowstone Park.
But these types of driving trips are for those just out of school or just into retirement. For the most part, we fly across country and this is especially true if there is an event to attend. Most of us do not have an abundance of time on our hands so we take to flying the friendly skies.
However if age and medical concerns ground you, being stuck on the east coast while your very first grand-daughter says "I do" can be heart-breaking. When it became clear that the right venue for this wedding was down the street from the betrothed home on Mission Bay in San Diego, tears were shed by grandparents in Boston.
Thankfully we live in an age of easy access to technology and we have the means to connect from across the country. We can share a wedding in real time via technology that creates a sense of being present at the big event. I found that we are not the only ones using today's electronic companionship, one guest reported he talks regularly with his 96 year old mother via Skype.
For this wedding it was Face Time and it was used to the fullest extent. I am convinced that Big G Mama and Blue Genes (the kid's names for their grandparents, coined when our children were in their teens) were more involved and engaged in this wedding while sitting in their home in New England than had they been dancing in the Golden State.
They "facetimed" during the rehearsal dinner, while the bride got her manicure and pedicure, while she had her hair done and after she put her dress on. They saw the entire ceremony from the front row, and experienced the first dance. They heard the toast and were passed around from table to table to say hello to family and friends. They rocked this wedding and they were full of the joy of the love that a grandparent has for their grandchild.
It is important as we care for aging family members that we understand their desire and in fact, their need to stay connected to family. We cannot rule out technology as a means to make that happen. For the wedding it took a number of practice runs in the week leading to the wedding to be certain it would go without a hitch on the big day. But the technology that my husband set up and taught, worked. Grandparents were present for the celebration.
As a new grandmother myself, I am now experiencing the wonder of Facetime and I think my 3month old granddaughter is figuring out how much I love her, even from across the miles. Not quite a hug and a snuggle but enough to satisfy until I can go visit.